DJI Minis used to be for those who want the best flight for the least money. The DJI Mini 3 Pro is what happens when we pay a little more.
build quality
The $760 DJI Mini 3 Pro brings a new structural design with improvements to the arms and propellers, camera gimbal and obstacle sensors, while still remaining under 249 grams with the standard battery installed. It's made from DJI's familiar gray plastic body, which I've found to be sturdy but lightweight.
The updated gimbal now features upward-angle shooting and can even be rotated vertically for portrait orientation photos and videos. In the DJI Fly app, this is as easy as tapping a button to switch between orientations, and it's extremely fast. The included plastic cover protects the camera and keeps the gimbal from moving when not in use, but my issue is that it's particularly fiddly to put back on compared to every other DJI drone I've used. Maybe I haven't figured out the trick yet.
In addition to the downward sensor, new features in the Mini series include forward and backward facing obstacle sensors. These are used in conjunction with APAS 4.0 to not only stop before problems arise, but also to automatically find paths around obstacles. Unfortunately, APAS 4.0 is not active for high frame rate recordings above 30p.
Battery life on the Mini 3 Pro is either the expected total of around 30 minutes with the standard Intelligent Flight Battery, or a very impressive 45 minutes plus with the new $100 Intelligent Flight Battery Plus. The Intelligent Flight Battery Plus has the same footprint as the standard battery but adds approximately 15 minutes to flight time. The downside is that it's heavier, making the entire drone package weigh over 250 grams, which then forces you to register it in many regions.
The extra battery life is great, but for many it's not worth using if it means hitting that registration requirement.
DJI RC
With the new Mini 3 Pro, DJI has also introduced a new optional controller. The DJI RC has a directly integrated 5.5 inch touch screen, so no smartphone pairing is required. This screen has a peak brightness of 700 nits, which is less than the 1,000 nits of the $1,200 DJI RC Pro. In bright sunlight, the screen is a bit too washed out at maximum brightness for any type of critical surveillance, but it's perfectly usable for getting exactly what the drone is doing. With the highlight warning on and the histogram displayed, screen brightness never became an issue for my use.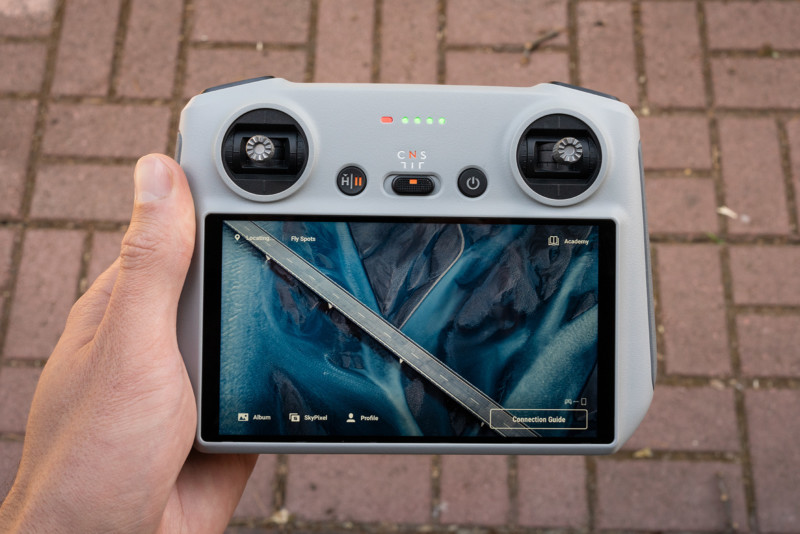 Paired with the Mini 3 Pro's 03 transmission system, the video surveillance feed comes in 1080p and looks great. There is a quality difference between standby mode and video recording, with the recording quality being an improvement for closer monitoring when it matters.
The DJI RC has a healthy number of controls, including separate photo and video buttons for quick switching and two programmable buttons on the back. The photo button is a two-stage button, just like typical cameras, where the first stage automatically focuses and sets the auto exposure without taking a photo, and the second stage down actually takes the picture.
Overall, it feels great in my hands and the rubberized grip prevents moisture. My only criticism is that I think the thumbsticks could use a little more tension for finer precision.
picture quality
With a generous 1/1.3-type CMOS camera sensor and a 24mm f/1.7 fixed lens, the camera can capture images up to 48 megapixels. However, in standard single-image mode, the photos are 12 megapixels. Overall image quality is impressive with good dynamic range and noise handling. Colors also look great straight out of the camera, whether you're shooting in RAW or JPEG.
DJI claims the camera has dual native ISOs, which seems to be true, but I honestly can't tell when the switch happens: images are always a bit noisy no matter what ISO I use. The noise level looks about the same from ISO 100 to the maximum ISO 6,400, and if anything, my 6,400 test images look cleaner than 100, which shows up as grainy noise. I can see that the dynamic range takes a hit as the ISO goes up, but the details don't get any more or less blocky.
Another area that impressed me was how well the camera handled backlit scenes. Lens flare is basically reduced to a tiny green dot, and at just the right angle in the farthest corners, there can be internal camera flare. Overall, the lens holds contrast in difficult situations much better than I expected.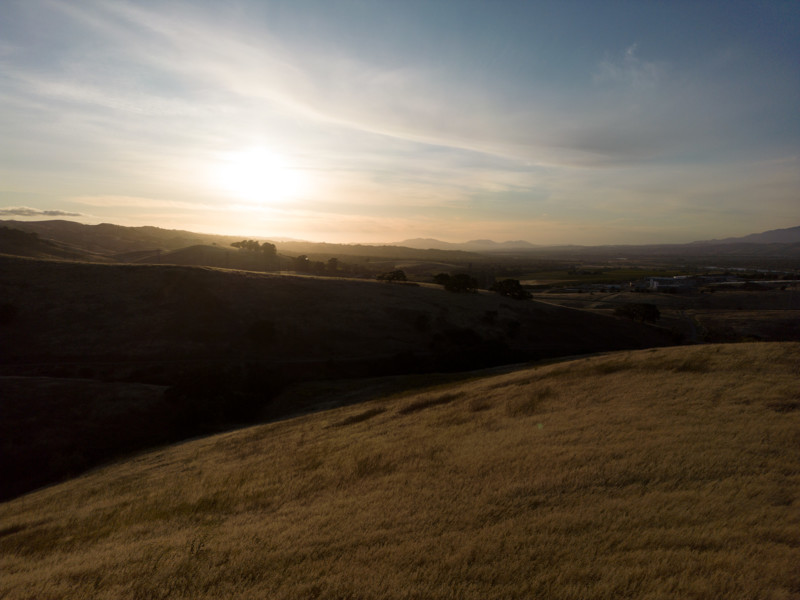 video quality
Looking at the little Mini 3 Pro and the tiny camera on it, I can't believe the video quality would be very good. But even in strong winds, the Mini 3 Pro far exceeded expectations to create smooth, rich footage.
It can record in 4K at up to 60fps or 1080p at up to 120fps. There is also HDR recording at up to 30 frames per second. All of this can be done in a horizontal frame or even vertical to keep the overall resolution for social media posting. Below are comparisons of 100% crops from 4K, 2.7K and 1080p footage. In detail I see almost no difference.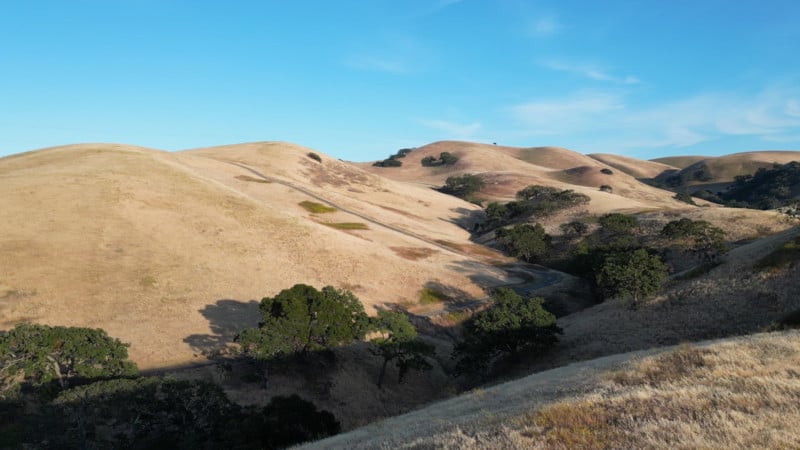 Below is a short video taken in windy weather at sunset to give a feel of the video image quality at 4K 30p. It was recorded in the "Normal" color mode without subsequent color corrections. The DJI Fly app kept warning me that it would force a landing because the wind was too strong, although it never did. As you can see in the first clip, it was difficult to stay in a fixed position and stay stable in the wind, but adding any kind of movement reduced these effects so much that it's hard to tell unless you're looking at the blowing one look at grass approx.
DJI promotes the ability to use digital zoom for video recording, e.g. B. 2x zoom in 4K, 3x zoom in 2.7K and 4x zoom in 1080p. Regardless of what digital zoom is used, you want the final project to be 1080p, otherwise the results will get pretty messy. Zooming in twice in 4K looks bad, but when it's scaled down to 1080p it becomes passable, and the story is the same with 3x at 2.7K. Below is a digital zoom comparison where the video itself is 1080p.
A giant refresh for a mini drone
DJI continues to up the ante and refuses to slow down in the drone market despite having been at the top for years. This new drone brings countless improvements to the mini form factor with a better camera and gimbal system, increased battery life, more stable flight performance, additional obstacle sensors, and all the little things like ActiveTrack, a D-Log color profile, and HDR video.
Are there alternatives?
This is the fourth release in DJI's line of small drones, following the Mavic Mini, Mini 2 and Mini SE. The Mini 3 Pro clearly stands out as a next-level improvement over previous models in every facet, but if you're haunted by the thought of buying a brand new drone that may or may not accidentally crash or drown the first time you fly, spend a little less can be the only way to feel good. On the other hand, the Mini 3 Pro is the first in the Mini series to have obstacle avoidance sensors front and rear, so it's still a tough decision.
As a DJI Mavic Air 2 owner, the new Mini 3 Pro seems to be everything I like about my drone but better, in a smaller package and with longer flight times. If I were to buy a drone today, I would choose the Mini 3 Pro over the Air 2 (not the Air 2S, to be clear).
Should you buy it?
Yes. The DJI Mini 3 Pro is a high quality drone in a tiny package. For the people who want the absolute best images and don't care how big the drone needs to be or how much they need to spend, there are other options, but for almost everyone else, this is the drone to buy.